Sinopsis
Si Doel The Movie ini merupakan kelanjutan dari sinetron Si Doel Anak Sekolahan yang populer 20 tahun yang lalu.
Sang sutradara dan aktor utama di film ini, yakni Rano Karno pun memilih Belanda sebagai lokasi syuting Si Doel The Movie.
Diceritakan bahwa setelah 14 tahun, Si Doel mencari Sarah yang belasan tahun menghilang darinya.
Si Doel The Movie ini tentu saja akan mengobati kerinduan banyak penggemarnya yang tak pernah ketinggalan menonton sinetronnya dulu.
Untuk mengobati kerinduan sambil menunggu filmnya tayang, pihak RCTI sudah memutar ulang sinetron Si Doel Anak Sekolahan sejak beberapa waktu lalu.
Bahkan hingga hari ini, sinetronnya pun masih tayang untuk menambah kerinduan dan rasa penasaran.
Bagi Anda yang sudah berencana menonton Si Doel The Movie, pasti penasaran dengan episode terakhir sinetron Si Doel Anak Sekolahan.
Atau bagi yang belum kebagian tiket pun tak perlu khawatir, Anda bisa menunggunya sambil menyaksikan episode terakhir Si Doel Anak Sekolahan.
Artikel ini telah tayang di tribun-timur.com dengan judul Si Doel The Movie Jawab Penasaran Fans Mulai Malam Pertama dengan Sarah Hingga Episode Terakhir, http://makassar.tribunnews.com/2018/08/03/si-doel-the-movie-jawab-penasaran-fans-mulai-malam-pertama-dengan-sarah-hingga-episode-terakhir.
Editor: Mansur AM
Doel, now happily married with Zaenab, went to Amsterdam to find his long lost love, Sarah.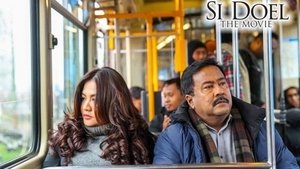 Judul Film
Si Doel The Movie
TMDb Rating8.2 3 votes