Friend Zone (2019)
Feb. 14, 2019
TH.
118 Min.
Sinopsis
Film Friend Zone (2019) mengisahkan tentang hubungan persahabatan yang romantis antara Palm dan Gink. Friend Zone merupakan Thai-Movie bergenre komedi romantis yang disutradarai oleh Chayanop Mu Boonprakob yang sebelumnya menyutradarai film May Who (2015) dan A Gift (2016).
Film ini dibintangi oleh Baifern Pimchanok Luevisadpaibul yang memerankan tokoh Gink. Siapa yang tak mengenal Baifer, aktris yang membintangi film populer A litte Thing Called Love (2010). Baifern juga berperan dalam film back to the 90's (2015), Long Fai (2017), dan Beauty Boy (2018).
Dalam film ini, Baifern beradu akting dengan Nine Naphat Siangsomboon yang memerankan tokoh Palm. Nine dikenal melalui aktingnya dalam film A Gift (2016) dan Rak Kan Panlawan (2017). Friend Zone juga dibintangi oleh Young Jason, Benjamin Varney, Chertsak Pratumsrisakhon, Nuttasit Kotimanuswanich, dan Sukhapat Lohwacharin.
Sinopsis
Palm dan Gink menjalin pertemanan selama 10 tahun. Palm pernah mengungkapkan perasaannya pada Gink saat mereka masih menjadi murid sekolah menengah. Akan tetapi, Gink menolak Palm dengan alasan hubugan mereka lebih nyaman jika berteman saja. Sejak saat itu hubungan mereka menjadi semakin dekat dan menjadi sahabat sampai mereka dewasa.
Palm yang memiliki pengalaman putus berkali-kali dengan wanita yang jumlahnya tak terhitung, selalu menceritakan kisah cintanya kepada Gink. Begitu pula dengan Gink yang sering bertengkar dengan pacarnya, Gink kerap kali menceritakan keluh kesahnya kepada Palm. Tidak peduli berada dimanapun, di Malaysia, Myanmar, ataupun Hongkong, Gink rela datang jauh-jauh hanya untuk bertemu dan menemani Palm.
Palm dan Gink sama-sama memiliki hubungan yang tidak lancar dengan kekasihnya. Mungkinkah ini takdir keduanya? Palm dan Gink kembali mencoba melewati hubungan di luar batas hubungan pertemanan.
Jenis film: Comedy, Romance
Sutradara: Chayanop Boonprakob
Produser: Jira Maligool, Vanridee Pongsittisak
Penulis: Pattaranad Bhiboonsawade, Chayanop Boonprakob, Thodsapon Thiptinnakorn
Pemain: Pimchanok Leuwisetpaiboon, Naphat Siangsomboon, Nutthasit Kotimanuswanich, Sukhapat Lohwacharin, Chertsak Pratumsrisakhon , Boom Suvagondha, Benjamin Joseph Varney, Jason Young
Produksi: Jorkwang Films
Distributor: GDH 559, Golden Village Pictures, Purple Media Enterprises
Tanggal rilis: 20 Maret 2019
Durasi film: 118 menit
In this world, there are many people who seem to be wandering along a relationship border-lining 'friends' and 'lovers'. This borderline is also commonly known as the FRIEND ZONE. It is a special area for those who are stuck in the middle where they cannot really stay friends with their close friends, nor move forward to be their friends' lovers.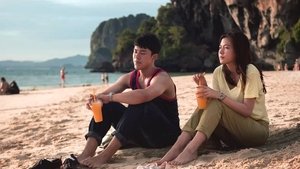 Judul Film
ระวัง..สิ้นสุดทางเพื่อน
TMDb Rating8.3 11 votes