Sinopsis
Cinta bisa datang darimana saja. Pun, pada dua anak remaja yang sedang dimabuk rasa sayang tanpa henti. Satunya cerdas dan berprestasi, satunya lagi seperti tak punya masa depan. Datang dengan dua latar belakang sosial yang berbeda.
Namun, kedua anak ini disatukan dengan cinta. Ia adalah Dara (Zara) dan Bima (Angga). Mereka berada di satu seklah yang sama, kelas yang sama duduk bersebelahan. Selalu dijemput Bima ketika akan berangkat sekolah. Diantar begitu pulangnya. Tampaknya, hubungan mereka sama seperti anak-anak remaja lain yang sedang jatuh cinta.
Namun, pada satu waktu, rasa cinta mereka diungkapkan secara 'berlebihan'. Belum tepat saja rasanya. Apa lagi konsekuensi yang akan digenggam di masa depan. Dara hamil di usia yang masih sangat muda. Bima kehilangan arah.
Konflik membesar. Ditambah lagi dengan bagaimana sikap orang tua dari Dara dan Bima. Bagaimana cara mereka mengelola konflik di usia yang masih sangat mudah. Dua Garis Biru adalah film tentang keluarga. Bagaimana menjalankan sebuah cerita yang harus dilalui dengan pahit melalui sebuah kebersmaaan yang hangat.
Bima and Dara are lovers who are still in high school. At the age of 17, they were determined to copulate outside of marriage. Dara was pregnant. Both are then confronted with a life that is unimaginable for children of their age, life as parents.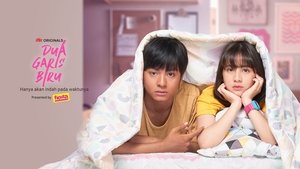 TMDb Rating7.8 6 votes