When the Weather is Fine (2020)
Sinopsis
Drama When the Weather is Fine (If the Weather Is Good, I'll Find You). Merupakan serial drama Korea romansa yang didasarkan pada novel 2018 Nalssiga Joeumyeon Chajagagesseoyo oleh Lee Do-Woo. Bercerita tentang dua orang yang bertemu dan bekerja di toko buku. Serial drakor ini juga dikenal dengan judul Drama "I'll Go to You When the Weather Is Nice" atau "I'll Visit You When the Weather Is Nice".
Pada 6 Agustus 2019, aktor ganteng Seo Kang-Joon dan aktris cantik Park Min-Young mendapat tawaran untuk menjadi pemain utama drama ini. Seo Kang-Joon merupakan anggota Kpop 5urprise yang juga tampil di serial drama Watcher. Park Min-Young juga aktris top Korea yang sebelumnya membintangi Her Private Life.
Dikenal sebagai pemeran Misoo di drama What's Wrong With Secretary Kim. Keduanya positif mempertimbangkan tawaran itu. Seo Kang Joon ditawari peran Eun Seob, seorang pria yang menjalankan toko buku kecil dan langsung tentang perasaannya. Sementara itu Park Min Young akan memerankan sebagai Hae Won, seorang guru seni yang telah mengalami masa lalu yang menyakitkan.
SINOPSIS Drama When the Weather is Fine :
Karena trauma yang dialami Hye-Won yang diperakan oleh Park Min-Young pada usia 15, ia tidak percaya pada orang. Hye-Won adalah wanita biasa dengan karakter yang baik. Dia adalah pemain Cello dan telah memainkan cello sejak dia masih kecil. Hye-Won memulai kehidupan sosialnya dengan kemampuannya memainkan cello, tetapi, selama waktu itu, dia terluka secara emosional oleh orang lain. Karena itu, Hye-Won tidak mempercayai orang dan dia telah menutup hatinya kepada orang lain.
Hye-Won menjadi muak dan bosan dengan kehidupannya di Seoul dan memutuskan untuk kembali ke kampung halamannya di Desa Bookhyun. Hye-Won memutuskan untuk tinggal bersama bibinya, seorang novelis yang menjalankan di pedesaan.
Sementara itu, Eun-Seob diperankan oleh Seo Kang-Joon mengelola toko buku di dekat penginapan yang dikelola oleh bibi Hye-Won. Eun Sub menjalankan toko buku "Goodnight Bookstore". Kehidupan sehari-hari nya begitu sederhana. Dia bangun dan minum kopi, membaca buku dan menulis di blog-nya. Kehidupan sehari-hari Eun-Seob mulai berubah setelah dia bertemu Hye-Won.
Mereka berdua bertemu. Hye-Won mulai bekerja paruh waktu di toko buku. Segera, hubungan romantis berkembang antara Hye-Won dan Eun-Seob.
Detail Tentang K-Drama :
Judul : When the Weather is Fine (2020)
Judul Lain : I'll Go to You When the Weather Is Nice / I'll Visit You When the Weather Is Nice / Weather Fine / If the Weather Is Good, I'll Find You
Judul Lokal : Nalssiga Joeumyeon Chajagagesseoyo / 날씨가 좋으면 찾아가겠어요
Genre : Drama, Romance
Episodes : 16
Sutradara : Han Ji-Seung
Penulis Naskah : Lee Do-Woo dari Novvel
Stasiun Channel : JTBC, VIU
Jadwal Tayang : 24 Februari 2020, setiap hari Senin dan Selasa pukul 21.30 KST
Detail Daftar Pemain When the Weather is Fine :
Seo Kang-Joon berperan sebagai Eun Seob
Park Min-Young berperan sebagai Hae Won
Moon Jeong-Hee berperan sebagai Sim Myung-Yeo
Jin Hee-Kyung berperan sebagai Sim Myeong-Joo
Lee Jae-Wook berperan sebagai Lee Jang-Woo
Lim Se-Mi berperan sebagai Kim Bo-Young
Kim Hwan-Hee berperan sebagai Im Whi
Nam Gi-Ae berperan sebagai Yoon Yeo-Jung
Kang Shin-Il berperan sebagai Im Jong-Pil
Yang Hye-Ji berperan sebagai Ji Eun-Sil
Kim Young-Dae berperan sebagai Oh Young-Woo
Lee Tae-Hyung berperan sebagai Bae Geun-Sang
Lee Sun-Hee berperan sebagai Choi Soo-Jung
Choo Ye-Jin berperan sebagai Kwon Hyun-Ji
Lee Bong-Ryun berperan sebagai Pharmacist
Kim Dae-Gun berperan sebagai Kim Young-Soo
A story about forgiveness, healing, and love taking place around a small book store in the countryside. Hae Won is an ordinary woman with good character. She has played the cello since she was a child. Hae Won began her social life with her ability to play the cello, but, during that time, she was hurt emotionally by others. Due to that, Hae Won does not trust people and she has closed her heart to others. Hae Won becomes sick and tired of her life in Seoul and decides to move back to her hometown Bookhyun Village. There, Hae Won meets Eun Seop. He runs the bookshop "Goodnight Bookstore." Eun Seop's daily life is simple. He wakes up and drinks coffee, reads a book and writes on his blog. Eun Seop's daily life begins to change after he meets Hae Won.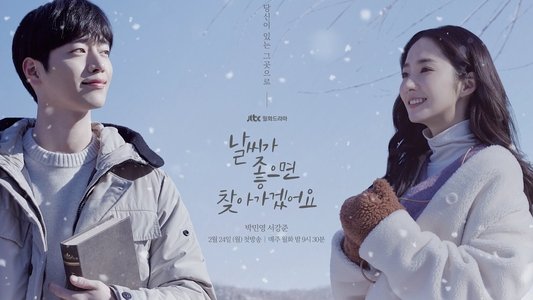 Judul Drama
날씨가 좋으면 찾아가겠어요
Perdana Tayang
Feb. 24, 2020
Terakhir Tayang
Oct. 22, 2020
Status Tayang
Returning Series