The Spies Who Loved Me (2020)
Creator
Cast
Sinopsis
Inti cerita dari drama ini berpusat pada Kang Ah Reum (Yoo In Na), seorang desainer gaun pengantin yang telah menikah sebanyak 2 kali.
Ada kesamaan pada kedua diri suami Ah Reum, yakni sama-sama menyembunyikan identitas mereka yang sebenarnya dari wanita itu.
Jun Ji Hoon (Eric Moon) menyamar sebagai penulis wisata, namun kenyataannya adalah agen rahasia Interpol.
Mantan suami Ah Reum ini bekerja sebagai agen rahasia untuk memenuhi kebutuhan finansialnya. Hingga ia bercerai dengan Ah Reum, sang mantan istri tidak pernah mengetahui identitasnya yang sebenarnya.
Setelah bercerai, Ah Reum bertemu dengan Derek Hyun (Im Joo Hwan) dan menikah dengannya. Suami kedua Ah Reum bekerja sebagai petugas di kedutaan besar dan memiliki kepribadian hangat serta lembut.
Namun identitas dirinya yang sebenarnya adalah mata-mata industrial berdarah dingin. Meski ia bersikap sangat manis di hadapan sang istri, Derek mampu melakukan hal paling kejam sekalipun.
Bagaimana kelanjutan kisah keduanya? Apakah mantan suami Ah Reum akan kembali masuk ke dalam hidupnya? Mampukah Ah Reum menyingkap rahasia kedua mata-mata tersebut?
Is a suspenseful romantic comedy about a woman who inadvertently gets caught up in the world of espionage. Kang Ah Reum, a wedding dress designer who gets married twice, to two husbands who both harbor many secrets. Kang Ah Reum's first husband Jun Ji Hoon is a charming and unpredictable secret agent who works for Interpol. Meanwhile, her second husband Derek Hyun is a highly intelligent corporate spy with a competitive streak.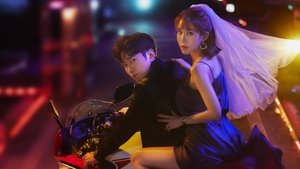 Perdana Tayang
Oct. 21, 2020
Terakhir Tayang
Jun. 16, 2021
Status Tayang
Returning Series