Sinopsis
Ra Yeong Ja yang merupakan pemain bulutangkis legendaris dan memiliki karisma pelatih yang tak diragukan lagi. Dia juga memiliki keterampilan dalam hal strategi dan politik di bidang bulu tangkis.
Saat ini, Ra Yeong Ja melatih di Sekolah Menengah yang memiliki peringkat 1 dalam bidang bulu tangkis.
Disamping itu, Racket Boy Band adalah sebuah nama klub yang berfokus pada olahraga bulutangkis.
Dimana tim bulutangkis ini terdiri dari anak laki-laki dan perempuan yang berusia sekitar 16 tahun. Walaupun memiliki semangat menjadi idol bidang olahraga, tim ini bermain tidak terlalu bagus.
Namun Racket Boy Band semakin berkembang ketika mereka mulai megikuti berbagai macam kompetisi. Saat kompetisi inilah mereka semakin berkembang.
A story of a boys' badminton team at a middle school in Haenam as they compete in a junior athletic competition. The 16 year old boys and girls in Haenam grow as people during this time.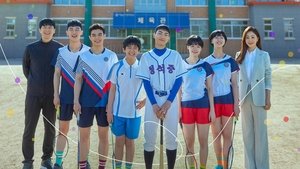 Perdana Tayang
May. 31, 2021
Terakhir Tayang
Jun. 01, 2021
Status Tayang
Returning Series