Sinopsis
Yoo Dong Man adalah detektif yang telah bekerja selama 20 tahun di berbagai departemen termasuk kejahatan kekerasan dan kejahatan dunia maya.
Sering bertindak impulsif, ia sekarang bekerja sebagai profesor di universitas kepolisian. Kang Sun Ho dan Oh Kang Hee adalah mahasiswa baru di universitas.
Kang Sun Ho adalah seorang mantan kriminal sekaligus peretas handal yang handal dalam urusan komputer. Ia memiliki kepribadian dingin tanpa emosi.
Oh Kang Hee adalah mahasiswi yang jujur, cerdas, dengan tekad yang kuat dan penuh perjuangan yang akhirnya keturutan menjadi mahasiwa di Akademi Kepolisian.
Yoo Dong Man, Kang Sun Ho dan Oh Kang Hee bersatu untuk mengungkapkan kasus kejahatan bersama-sama.
Hacking was the only way out of Kang Sun Ho's miserable life ever since his parents passed away from an accident when he was just ten. He eventually puts his genius hacking skills into practice in an attempt to steal illegal gambling funds to pay for his adoptive father's cancer surgery. One day, Sun Ho bumps into a charismatic judo girl, Oh Kang Hee, and falls in love at first sight. Just to be with her, he sets a goal to get an acceptance letter from the same university as Kang Hee's and eventually gets accepted. However, he does not expect a familiar face from his previous misdemeanor, Yoo Dong Man, to greet him as his professor. At first, he's not very pleased to see him again, but he gradually grows fond of Dong Man, the man of justice, to the point where he respects Dong Man's philanthropic and brave nature as they continue to bicker with one another. Just like that, what started as love at first sight becomes Sun Ho's life goal, a police officer.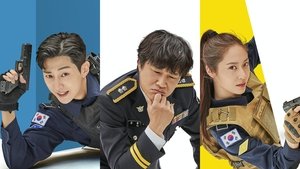 Perdana Tayang
Aug. 09, 2021
Terakhir Tayang
Aug. 09, 2021
Status Tayang
Returning Series
Season Dan Episode