Sinopsis
Menceritakan kehidupan remaja bernama Baek Ho Rang (Jung Da Bin), yang merupakan siswa papan atas di sekolahnya karena berasal dari keluarga yang kaya.
Ia sangat populer dan menjadi idola di sekolah. Ho Rang bergabung dengan klub siaran karena ingin meminta tolong pada Go Eun Taek, kepala klub yang perfeksionis.
Ia ingin Eun Taek membantunya mencari tahu sosok misterius yang mengancam akan membongkar masa lalunya.
Ho Rang yang cantik merupakan influencer ternama di sekolahnya. Meskipun demikian, ia hanya punya satu teman sejati dan kurang disukai karena suka meremehkan orang lain.
Sifatnya sangat berbeda dengan Eun Taek yang sensitif, detail, dan terkadang menyebalkan. Meski ia kaku dalam memimpin, Eun Taek selalu menyelesaikan tugasnya dengan baik dan disukai oleh banyak siswa di sekolah.
Akankah misteri sosok yang mengancam Ho Rang terungkap? Berhasilkah Ho Rang meminta bantuan dari Eun Taek? Apakah dalam perjalanannya mereka akan jatuh cinta?
Baek Ho-Rang (Jung Da-Bin) is a high school student. Due to her pretty appearance, she is popular on social media and at her school. Yet, Baek Ho-Rang only has one friend, due to her condescending personality. Baek Ho-Rang encounters a problem. She learns that someone is trying to unveil her secret. To find that anonymous person, Baek Ho-Rang joins her high school's broadcasting club. Go Eun-Taek (Minhyun) is the chief of the broadcasting club. He is a perfectionist and respected by the club members.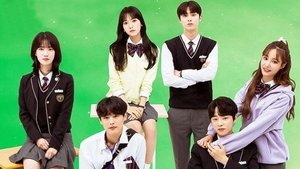 Perdana Tayang
Nov. 17, 2020
Terakhir Tayang
Jan. 28, 2021
Status Tayang
Returning Series