Sinopsis
Tae Kyung adalah anak SMA berusia 18 tahun yang selalu menyendiri sepanjang hidupnya Namun ia mulai mempertanyakan penilaiannya sendiri.
Tae Kyung memberi tahun gurunya bahwa ia tidak ingin sendirian. Namun masalahnya, ia tidak tahu bagaimana caranya mencari teman.
Guru menyarankan Tae Kyung untuk bergabung dengan OSIS. Ia setuju dan seketika ragu karena menemukan bahwa mencari teman itu susah.
Ia akhirnya bertemu dengan Shin Woo, wakil ketua OSIS yang dingin dan berkepala dingin, serta enggan menerima Tae Kyung.
Tae Kyung juga bertemu dengan Da On, ketua OSIS yang sifatnya bertolak belakang dari Shin Woo. Ia tampaknya langsung bersinar.
Tae Kyung, Shin Woo dan Da On terlibat kisah yang rumit. Masalah semakin rumit dengan fakta bahwa teman wanita Da On diam-diam menyukainya.
A high-teen romance about Woo Tae Kyung, who joined the Saebit Boys High School Council to make friends, meeting his first love there. Woo Tae Kyung, who is blunt and straightforward, is entangled with Noh Shin Woo, who is cold outside but warm inside, Shin Da Won, the most popular student president of the school, and Nam Gung Shion, the mood maker, and depicts friendship and love.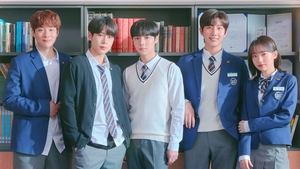 Perdana Tayang
Jun. 29, 2021
Terakhir Tayang
Jul. 06, 2021
Status Tayang
Returning Series