Sinopsis
Drama ini akan bercerita tentang bagaimana kehidupan idol KPop, diantaranya Girlband Tea Party, Boyband SHAX dan Boyband Sparkling.
Girlband Tea Party terdiri dari Lee Ma Ha, Hyun Ji dan Ri Ah. Sedangkan Boyband SHAX terdiri dari Kwon Ryuk, Eun Jo, Hyuk, Kang Lee Hyun, Do Jin serta Jae Woo. Kalau Boyband Sparkling ada Lee Yoo Jin, Hyun Oh, Min Soo dan Se Young.
Cerita akan berfokus pada member Tea Party bernama Lee Ma Ha. Ia kurang terkenal namun menarik perhatian karena mirip dengan La Ri Ma yang merupakan solois terkenal.
Dalam suatu acara, Lee Ma Ha tanpa sengaja melukai salah satu anggota Boyband SHAX yaitu Hyuk.
Akibat insiden itu salah satu anggota Boyband SHAX,  yaitu Kwon Ryuk semakin tak suka dengan Lee Ma Ha.
Karena menurut Kwon Ryuk, Lee Ma Ha meniru La Ri Ma. Lee Ma Ha tak hanya dibenci oleh Kwon Ryuk tapi juga orang lain.
Walaupun keduanya saling membenci tapi takdir berkata lain, Lee Ma Ha justru berada dalam satu serial bersama Kwon Ryuk.
Di samping itu, ada teman kecil Lee Ma Ha dari Boyband Sparkling yaitu Lee Yoo Jin yang mencoba melindungi Lee Ma Ha dari Kwon Ryuk.
Ma-Ha is a member of girl group Teaparty. The other members are Ri-A and Hyun-Ji. Since their debut, they haven't achieved much success. Ma-Ha has received some attention due to her resemblance to popular singer Ri-Ma. Teaparty then takes part in a reality TV program, involving popular idol groups participating in sporting events. Ma-ha wants to catch the attention of viewers. Meanwhile, Kwon Ryeok is member of popular boy band Shax. He is well liked and is good at singing, dancing, and acting. He is also focused on maintaining his success. He doesn't like Ma-Ha, who imitates the appearance of popular singer Ri-Ma. During the TV program, Hyeok from boy band Shax gets injured due to Ma-Ha. Kwon Ryeok bursts out with anger at Ma-Ha. She also receives hate from other people. Ma-Ha doesn't want to see Kwon Ryeok anymore, but they cross paths on TV programs and while performing in a drama series.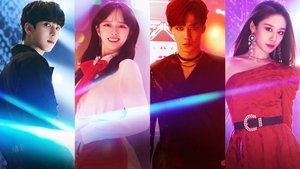 Perdana Tayang
May. 07, 2021
Terakhir Tayang
May. 07, 2021
Status Tayang
Returning Series
Season Dan Episode