Do Do Sol Sol La La Sol (2020)
Sinopsis
Drama ini mengisahkan tentang kisah hidup seorang pemain piano yang handal bernama Goo Ra Ra (diperankan oleh Go Ah Ra), memiliki kepribadian yang sangat ceria.
Ia harus bertahan hidup saat menerima kenyataan bahwa keluarganya mengalami kebangkrutan. Sehingga dengan finansial yang rendah, Ra Ra harus bisa bertahan hidup sembari terus mengasah hobinya dibidang bermusik khususnya menjadi seorang pianis.
Sun Woo Joon (diperankan oleh Lee Jae Wook) merupakan seorang pemuda yang memiliki kepribadian yang tidak perduli dengan sekitar.
Woo Joon enggan memperdulikan orang lain yang berkomentar tentang hidupnya, namun dibalik itu semua Woo Joon memiliki hati yang baik dan hangat.
Ia memiliki kehidupan yang cenderung bebas dan tidak memiliki tujuan hidup yang jelas, berbanding terbalik dengan Ra Ra yang memiliki banyak impian.
Suatu hari, Ra Ra dan Woo Joon bertemu tanpa sengaja di sebuah akademi piano swasta yang terletak di suatu pedesaan.
Kepribadian mereka yang bertolak belakang membuat mereka tidak pernah akur, namun siapa sangka Ra Ra mampu mengubah sifat Woo Joon sehingga menimbulkan sikap kepedulian terhadap sekitar.
Cerita perjalanan mereka juga dipenuhi dengan adegan lucu bersifat komedi yang menambah kisah percintaan menjadi semakin menarik.
A riches-to-rags pianist who loses everything but her smile is guided by twinkling little stars to a small town where she finds hope, home and love.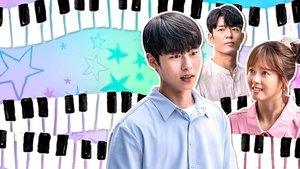 Perdana Tayang
Oct. 07, 2020
Terakhir Tayang
Jan. 28, 2021
Status Tayang
Returning Series